This visual sums up the first paragraph:
1 The words of Jeremiah son of Hilkiah, one of the priests at Anathoth in the territory of Benjamin. 2 The word of the Lord came to him in the thirteenth year of the reign of Josiah son of Amon king of Judah, 3 and through the reign of Jehoiakim son of Josiah king of Judah, down to the fifth month of the eleventh year of Zedekiah son of Josiah king of Judah, when the people of Jerusalem went into exile.
---
God identified Himself to be sovereign over Jeremiah in that He:
knew Jeremiah before he was born,
had caused him to be born
had separated him for a holy service.
The Lord gave Jeremiah two visions to clarify his message.  The first deals with the time of judgment and the second with the direction and nature of it.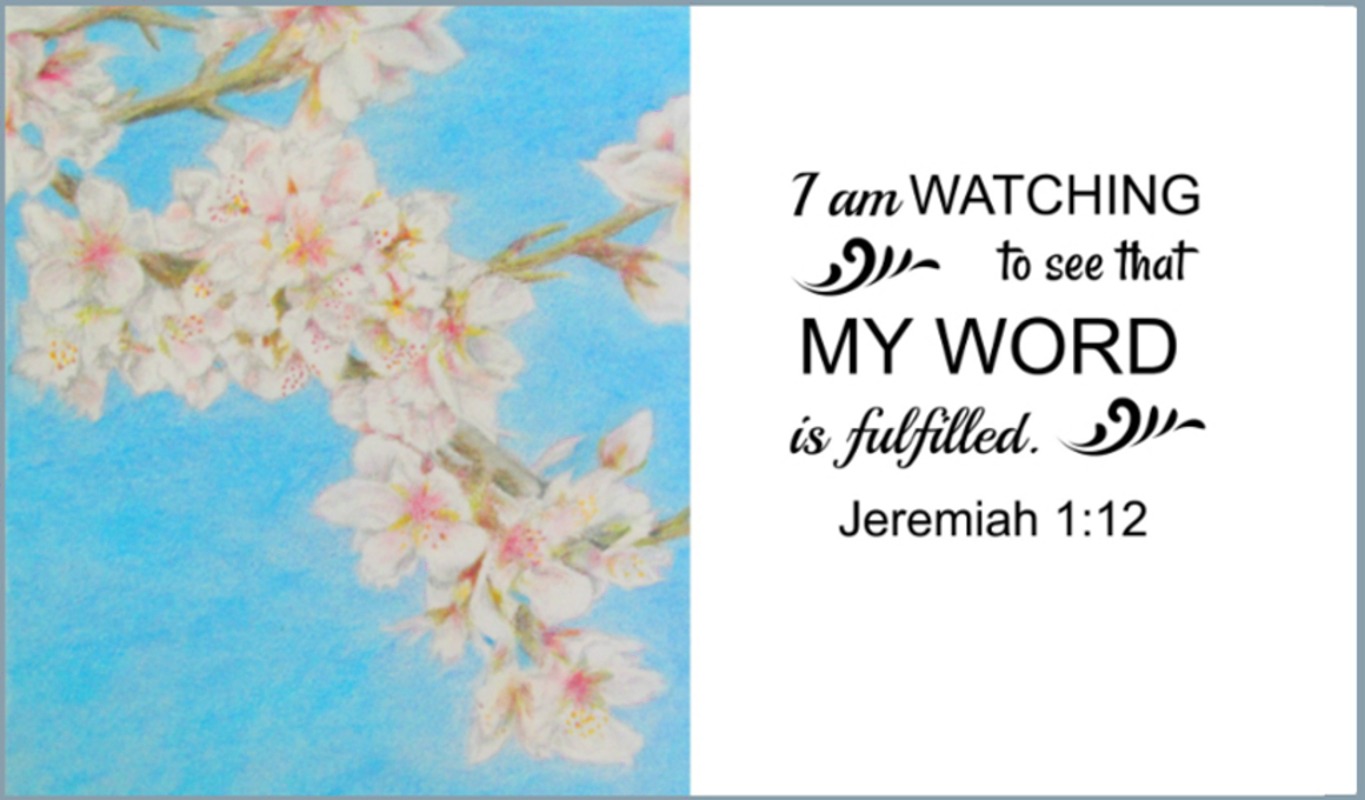 The connection with the almond branch is a play on words. "Almond" is 'shaqed' in Hebrew, which also means "awake.  "Watching" is shoqed. The meaning seems to be that just as the blooming of the almond branch announced that spring was near, so the prophet's word would bring the prophecy awake.  (in the Spring).
The Lord directed Jeremiah to view a boiling pot that was tipped so that it was about to pour its contents out toward the south. The Lord explained that the contents of the boiling pot represented an evil that would overflow upon all the inhabitants of Judah from the north.  I believe this refers to Babylon.
16 I will pronounce my judgments on my people
    because of their wickedness in forsaking me,
in burning incense to other gods
    and in worshiping what their hands have made.
---
Chapter 2 broke my heart.  You can feel the Lord's emotions
"What did I do wrong?"
"What fault did your ancestors find in me,
    that they strayed so far from me?
Have I not been there for you?
7 I brought you into a fertile land
    to eat its fruit and rich produce.
Even the ones at church the temple do not really know me
Those who deal with the law did not know me;
    the leaders rebelled against me.
You rejected my way and created your own way.
13 "My people have committed two sins:
They have forsaken me,
    the spring of living water,
and have dug their own cisterns,
    broken cisterns that cannot hold water.
Wait for it…You read the scriptures and think of "other" people and their sins, not your own!
23 "How can you say, 'I am not defiled;
    I have not run after the Baals'?
This one is really personal: Where is the "world" for you now.  You ONLY come to me when you need me.  Ouch!
28 Where then are the gods you made for yourselves?
    Let them come if they can save you
    when you are in trouble!
For you, Judah, have as many gods
    as you have towns.
---
Chapter 3:-The Lord speaks of His people in a marriage to Him
"If a man divorces his wife
    and she leaves him and marries another man,
should he return to her again?
    Would not the land be completely defiled?
But you have lived as a prostitute with many lovers—
    would you now return to me?"
declares the Lord.
Judah SAW what happened to Israel and the Lord wanted Judah to learn from that:
7 I thought that after she had done all this she would return to me but she did not, and her unfaithful sister Judah saw it. 8 I gave faithless Israel her certificate of divorce and sent her away because of all her adulteries. Yet I saw that her unfaithful sister Judah had no fear; she also went out and committed adultery.
WOW!!!
11 The Lord said to me, "Faithless Israel is more righteous than unfaithful Judah
Soak that up for a minute!  The world looks better than the Church at times!
And it ends with:
We have sinned against the Lord our God,
    both we and our ancestors;
from our youth till this day
    we have not obeyed the Lord our God."
THIS IS GOING TO BE A GREAT BOOK!!!!  I read it once today and then listened to it.  What stood out to you?