This may be familiar to you, but now that you know from the Old Testament who the Devil is, where he came from, what he wants,-I hope you read this brand new today.  There are 3 temptations:
 The temptation to satisfy the flesh.  It specifically says Jesus was hungry. Where the Israelites failed, Jesus will conquer.  He is recalling when the Lord provided in the wilderness.

Jesus quotes from Deuteronomy:
Deut 8: 2 Remember how the Lord your God led you all the way in the wilderness these forty years, to humble and test you in order to know what was in your heart, whether or not you would keep his commands. 3 He humbled you, causing you to hunger and then feeding you with manna, which neither you nor your ancestors had known, to teach you that man does not live on bread alone but on every word that comes from the mouth of the Lord.
I can almost see the Devil saying "Oh, you want to play the Scripture game…I know it well, I use it to sway humans ALL THE TME."
2.  The temptation of pride/power (prove it!): He comes back with Psalm 91:11-12
6 "If you are the Son of God," he said, "throw yourself down. For it is written:
"'He will command his angels concerning you,
and they will lift you up in their hands,
so that you will not strike your foot against a stone.'"
Jesus replies with scripture in Deut. 6:16
7 Jesus answered him, "It is also written: 'Do not put the Lord your God to the test.'"
So here is the deal: The Devil knows the End Game!  The Messiah came to be the Lord of ALL.  So what if the Devil tempts Jesus with a shortcut—bypass the Crucifixion…take it now, the easy way!  (Oh my, that would undo EVERYTHING,  but how tempting is that!).
3.  Temptation of having it all (material)- The Devil says:- 9 "All this I will give you," he said, "if you will bow down and worship me."
 Jesus said to him, "Away from me, Satan! For it is written: 'Worship the Lord your God, and serve him only.'"
I bet the Devil left cursing like a truck driver!  (I bet he did too when he left Georgia without the golden fiddle) LOL.
---
There are tons of good maps.  I will try to pick a different one each time, keep the one you like.  It is important to pay attention to Jesus' travels.  Remember The Lord has a very specific timeline.  Every detail is planned out.  Jesus will give up His life on the Passover to fulfill the Passover.  But first, he has to teach.  So when you see a scripture like:
12 When Jesus heard that John had been put in prison, he withdrew to Galilee. 13 Leaving Nazareth, he went and lived in Capernaum,
One of the reasons (there are many)- was for safety.  It is not his time to be arrested! Galilee (I remember it from the G).
G- Galilee-the Gentile "area"

J-Judea- the Jewish "area"
Galilee was settled by the Greeks, taken over by the Romans became a melting pot of languages, radically different ideas of religion, architecture, government, philosophy, religion, and morality.
John the Baptist is imprisoned in Machaerus.  Jesus heads North and established his ministry headquarters in Capernaum. (In Galilee)
Now that you have all that ramblings-go back and look at verses 12-17 and see if that makes sense.  If you want to take it one step deeper click here for Land Distribution of the tribes.
---
Luke 4-5:  Oh this is a favorite!  Whenever I read this I picture Jesus dropping a Mic at the end! #dropmic
Picture the Scene:  Jesus, on the Sabbath (as it was his custom), goes into the synagogue (a place to study scripture).  It was customary that the 'new' teacher in town would speak.    Jesus walks up…takes the scroll of Isaiah 61 and reads..
"The Spirit of the Lord is on me,
because he has anointed me
to preach good news to the poor.
He has sent me to proclaim freedom for the prisoners
and recovery of sight for the blind,
to release the oppressed,
to proclaim the year of the Lord's favor."
Then he rolled up the scroll, gave it back to the attendant and sat down. DROP MIC!
Verse 21:"Today this scripture is fulfilled in your hearing."
(I promise I will keep this short!..I will bullet my thoughts)
Verse 4:28  They were furious BECAUSE the stories were of Gentile Healings.
Verse 4:34 Even the Demons know of God's destruction and that He is the HOLY ONE of God (notice it was more than one demon "us"
Verse 4:35 He can subdue them with a WORD!
4:37 Uh Oh!  Things are getting stirred up.  It's beginning.  Rome is going to start to get aggravated
4:41 He silences the demons- It is not time yet to reveal himself
4:42 In Galilee (Gentile area) and Judea (Jews), Jesus says why He is sent
43 But he said, "I must proclaim the good news of the kingdom of God to the other towns also, because that is why I was sent." 44 And he kept on preaching in the synagogues of Judea.
---
Luke 5…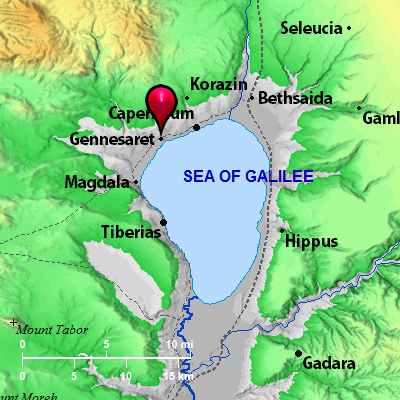 I'm sorry this is long and posted so late.  I will make this part short.  If this is your first time reading it and have questions let me know.  Map above.
These 3 men: Peter, John, and James will be with Jesus the longest and are His "inner circle". All three men were present with Jesus during special events, being eyewitnesses of Jesus' transfiguration, witnessing Jesus raise Jairus's daughter from the dead, and accompany Him while He prayed in the Garden of Gethsemane. Thus, these three witnessed Jesus' greatest moments of glory and His darkest trials. They were His closest friends.  I will tell you one fact good/sad about each to
Peter-

when his net was full Jesus told him he would be fishers of men.  He will!  Peter preaches at Pentecost and catches 3,000 men that day! (in Acts)
Peter is eventually put to death and did not feel worthy to die the same way Jesus did so he requests to be hung upside down.  If you go to Rome you will see this-The Petrine Cross for St. Peter.
John–

When Jesus dies, John is the one to take care of Mary going forward (this is how we know for certain Joseph had passed away
John will be exiled to the island of Patmos to be given the vision to write down.  The vision is Revelation!

James-

This is NOT the author of the book of James. (Jesus' brother wrote it)
James was the only apostle that has a record of martyrdom in NT.  (Acts 12)
---
if you are interested in more click here for a pdf on the 12 Ordinary Men (and some others)