Matthew: We know that he is going to write straight out the OT fulfilling scriptures)  Let's do this!
He is a "Voice"- so what is this crazy outfit?  So if this were today at my house it would be-
"Hey mom, there is a crazy looking guy outside, his hair has never been cut, he doesn't smell like he has been drinking, and he is wearing camel hair and a big belt, quoting Isaiah"  My response would be "Oh my stars, get your camera…it must be Elijah!"  "How do you know mom?"  "I knew you weren't paying attention at Sunday School!"
2 Kings 1:7-8
7 The king asked them, "What kind of man was it who came to meet you and told you this?"
8 They replied, "He had a garment of hair and had a leather belt around his waist."
The king said, "That was Elijah the Tishbite."
Isaiah40:3
A voice of one calling:
"In the wilderness prepare
    the way for the Lord;
make straight in the desert
    a highway for our God.
Micah 4:5
5 "See, I will send the prophet Elijah to you before that great and dreadful day of the Lord comes. 6 He will turn the hearts of the parents to their children, and the hearts of the children to their parents; or else I will come and strike the land with total destruction."
---
John the Baptist comes as the last prophet proclaiming a word of repentance.  They came TO him, he was in the wilderness.  They confessed and were baptized.  Baptisms were not new.  When the Hebrews came to the Temple to make a sacrifice for their sins they washed in the laver.  Also, throughout history, as people "converted" to Judaism they studied the scriptures, circumcised, and were symbolically washed away of their sins in water.  An outward expression of an inside change. The Pharisees and Sadducees relied on their genealogy for salvation.  They had their printout from Ancenstry.com and used that as their ticket. (so they thought)
John speaks about himself as being lower than the lowest servant.  The lowest servant was the one that would take the sandals off of a guest at a home upon their arrival.  John says he is not even close to being the lowest servant compared to his cousin Jesus.
13 Then Jesus came from Galilee to the Jordan to be baptized by John. 14 But John tried to deter him, saying, "I need to be baptized by you, and do you come to me?"
Why would Jesus need to be baptized?  After all, He was sinless.  What could be have repented from?
15 Jesus replied, "Let it be so now; it is proper for us to do this to fulfill all righteousness." Then John consented.
Jesus needed to be accepted by the people because He was taking the reigns of John's ministry.  This is the moment in order to fulfill all righteousness they would follow Him.  When Jesus gets baptized, the Trinity is Present!
16 As soon as Jesus was baptized, he went up out of the water. At that moment heaven was opened, and he saw the Spirit of God descending like a dove and alighting on him. 17 And a voice from heaven said, "This is my Son, whom I love; with him I am well pleased."
---
Mark 1- When I read Mark 1 I started laughing because Mark is hyperspeed! (read the Mark Overview)  However, his audience is the Romans.  He doesn't need to fulfill OT scriptures and he's not a gentile talking to gentiles, so he doesn't have to explain "why" things are happening..he just dives right in!
Since we will break many of these scriptures down,  I am just going to let you enjoy "Mark 1" at "Mach 1" speed.
---
Luke 3- He is going to begin by telling us what is happening internationally (Rome), nationally (Israel), and spiritually (Temple).
In the fifteenth year of the reign of Tiberius Caesar—when Pontius Pilate was governor of Judea, Herod tetrarch of Galilee, his brother Philip tetrarch of Iturea and Traconitis, and Lysanias tetrarch of Abilene— 2 during the high-priesthood of Annas and Caiaphas, the word of God came to John son of Zechariah in the wilderness.
Tiberius Caesar (followed Caesar Agustus): Emperor in Rome  (from the dating we know it is about 28 AD)
Pontius Pilot: The appointed Roman Governor placed in Judea (He is not Roman nor Jewish, he is Spanish.  He married the granddaughter of Caesar Agustus) (In charge of Southern Israel/Jerusalem)
Herod Antipas, (governed the area of Galilee North)
Annas and Caiaphas the high priests.

Annas used to be the high priest, but the priesthood by this time is so corrupt, the Romans placed Caiaphas in the position for political control.  Caiaphas was the son-law of Annas.

Annas was in the "Good Ole Boys Club, while Caiaphas was the puppet son-in-law.
This will be pertinent when Jesus goes on "trial".   Who is the High Priest?
---
The reading mimics Matthew but one of my favorite verses is:
8 Produce fruit in keeping with repentance.
I could talk about that forever (shocking I know).  The followers ask "What does that mean, we need an example"!
John 15:5 says:
5 "I am the vine; you are the branches. If you remain in me and I in you, you will bear much fruit; apart from me you can do nothing. 6 If you do not remain in me, you are like a branch that is thrown away and withers; such branches are picked up, thrown into the fire and burned. 7 If you remain in me and my words remain in you, ask whatever you wish, and it will be done for you. 8 This is to my Father's glory, that you bear much fruit, showing yourselves to be my disciples.
In Luke John continues with examples of what it means to be bear fruit.  What fruit looks like BECAUSE we are believers not to BE believers.  Bloom where you are planted!  If you are an office worker-bear fruit there.  If you are a tattoo artist-bear fruit there.  If you are a stay-at-home mom-bear fruit there.  All the examples given were given within a current job.
---
John being put in prison was mentioned in the caffeine-filled book of Mark and again here in Luke.
19 But when John rebuked Herod the tetrarch because of his marriage to Herodias, his brother's wife, and all the other evil things he had done, 20 Herod added this to them all: He locked John up in prison.
So long story short: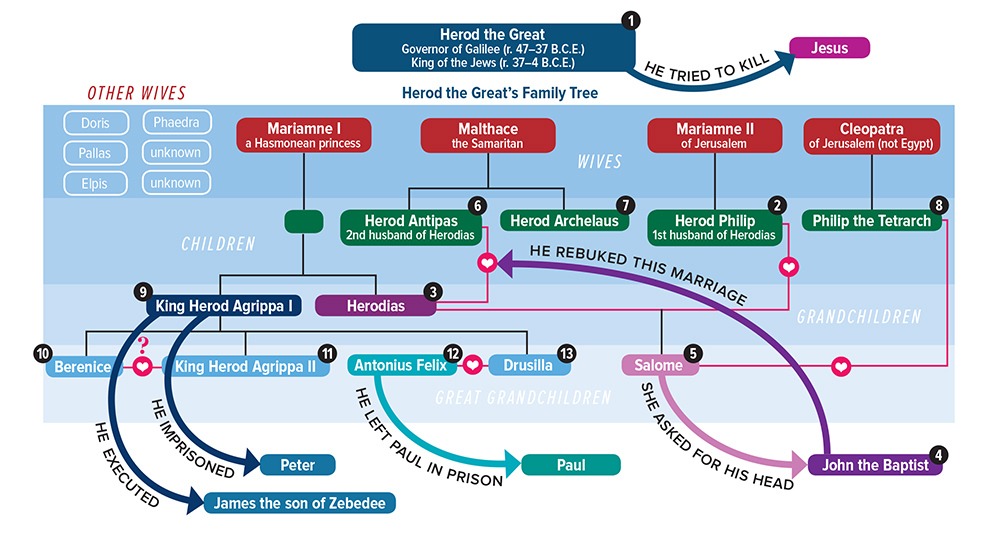 What is that!!  Well, just look at a small part of it (for now).  Look at:
#6 Herod Antipas, then the heart, then #3 Herodias.
Now follow #3 line to the heart of #2.
Good so far?
John rebukes this infinitely my marrying Philip's wife, so Herod Antipas #6, imprisons him for speaking against him.
(If you keep looking at it you will see the fate of John…or you can close your eyes and let it be a surprise in the scriptures.)
---
Luke's genealogy:  What do you see?  How is this one different?  There are lots of cool answers!!  Tell me what stood out-there are no wrong answers.