Click here to listen

1 Chronicles 20 (totally different than 2 Samuel)
If you are behind I posted "historical' catchup read last night
As much as I would love to make the application of this read I won't.   As you read, let the Holy Spirit pull out the lesson YOU need today.
---
I was just doing research and it said "This is the 2nd most notorious sin in the Bible next to the Fall".   I had a funny memory hit me: I was at a conference and the speaker: Kay Arthur,  was teaching on this scripture and I was sitting next to a "very marinated in Jesus" woman who heard this story all her life so she was talking to me and I hushed her and I said "I have got to hear how this ends!" and she said, "It's David and Bathsheba!" I looked at her and said, "I have no idea who these people are!" (First time ever hearing this "notorious" story).  Then I said, "I just wish the woman in from of me didn't have such big hair!".  She laughed and did not tell me it was the next speaker:  Beth Moore.  😳
---
Disobedience to God's will results in a lack of blessing.
Verse 1 "In the spring, at the time when kings go off to war, David sent Joab out with the king's men and the whole Israelite army. They destroyed the Ammonites and besieged Rabbah. But David remained in Jerusalem."
David's problems began when things were going too well for him! Our most difficult times are not when things are going bad. Hard times make us dependent on God. You don't get proud when you're dependent on God. Survival keeps you humble. Pride happens when everything is going your way!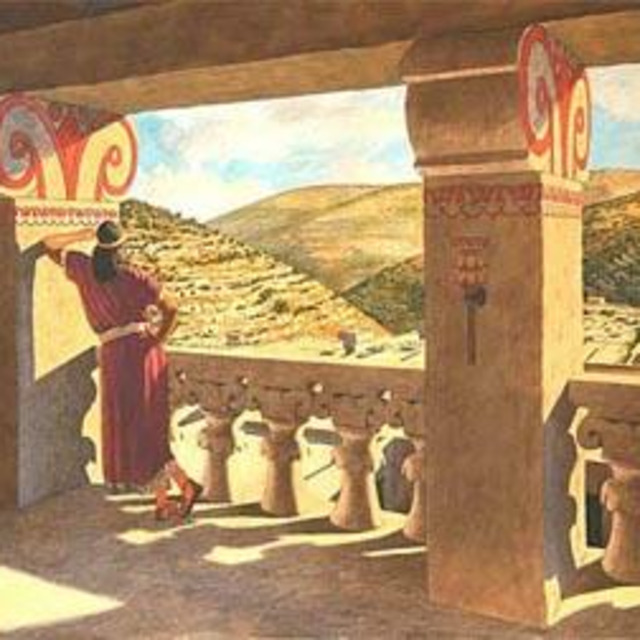 Verse 2: Seeing Bathsheba was not a sin.  Sending someone to find out who she was: Sin.
Clearly, I want to break this down verse by verse but I think you would all kill me for that so let sum it up by saying:
SIN leads to SIN
For David, lust led to adultery.  Adultery led to deception.  Deception led to entrapment.  Entrapment led to Murder.  I want to say "all from inquiring about her", but truly if he was at war where he was supposed to be, none of this would have happened.  (oh,  the life application I could make here!).
Do you remember back in 1 Samuel 8 when the Israelites said "We want a king", and Samuel basically said, " if you ask for a king…here are all the wrong things he will do and TAKE from your family".  Well, he used his royal position to "Take" what wasn't his just as predicted.
I know the men will cringe, but underlining that she was "purifying" and that she just had her "monthly uncleanliness" is so important.  It proves that she was not already pregnant when David took her.
David compounded his sin by trying to cover it up rather than confessing it. He tried three cover-ups:
a "clean" one (vv. 6-11), (go sleep with your wife…clearly you have missed her)
a "dirty" one (vv.12-13), (let's get him drunk…all drunk men want to sleep with their wives…keeping it real folks!) 😂
Uriah drunk proved to be a better man than David sober!  Ouch! David was setting up this soldier to cover his own sin. However, King David underestimated Uriah's commitment to him.  Though Bathsheba's husband was a Hittite, he appears to have been a godly believer in the Lord,  as well as a dedicated warrior. Uriah's name means "Lord is my light".
3. and a "criminal" one (vv. 14-17) (sadly the plan worked, and Uriah died, but so did a few other men along with him)
---
Chapter 12
As a prophet, Nathan was required to confront sin, even the sin of a king.  Nathan used a parable:
The Rich man-is David

The Poor man-is Uriah

The Ewe-is Bathsheba
Ohhh how easy it is to recognize the sin of others over our own!  (It's like when I sit in church and I say in my head "Ohhhh I wish Karen (made up name) could hear this sermon…she needs it).  Yikes!  Am I the only one that does that??
Not only did David recognize the sin, but his emotional ungodly reaction to it was also ridiculous! Let's look at the Law, shall we?
Exodus 22:1 ""Whoever steals an ox or a sheep and slaughters it or sells it must pay back five head of cattle for the ox and four sheep for the sheep.
Leviticus 20:10 "'If a man commits adultery with another man's wife—with the wife of his neighbor—both the adulterer and the adulteress are to be put to death."
Leviticus 24:17  "'Anyone who takes the life of a human being is to be put to death"
What sentence did King David hand down…did he follow the Law?  On the contrary….He hands down the penalty HE should receive.  Ohhh the humanity!
David burned with anger against the man and said to Nathan, "As surely as the Lord lives, the man who did this must die!"
 God's response: (Notice the word "I")
I anointed you king over Israel,

I delivered you from the hand of Saul

I gave your master's house to you, and your master's wives into your arms.

I gave you all Israel and Judah.

And if all this had been too little, I would have given you even more.
Now notice the word "You"
Why did you despise the word of the 

Lord

 by doing what is evil in his eyes?

You struck down Uriah the Hittite with the sword and took his wife to be your own.

You killed him with the sword of the Ammonites.

Now, therefore, the sword will never depart from your house, because you despised me and took the wife of Uriah the Hittite to be your own.
---
Verse 13:  "I have sinned against the Lord."
Notice that God's forgiveness followed immediately after David's confession.
GRACE!!!!
The Lord removed the guilt of David's sin (forgiveness) he did not remove the consequences of it (discipline). Someone told me once: you hammer a nail in a board you may remove the nail, but the hole remains.
"This is what the Lord says: 'Out of your own household I am going to bring calamity on you. Before your very eyes I will take your wives and give them to one who is close to you, and he will sleep with your wives in broad daylight.  You did it in secret, but I will do this thing in broad daylight before all Israel."
Shut up!!! Is this really going to happen??  Umm Hello….it is the Bible and God is speaking, so of course, it is going to happen.  You will have to wait for it but here are some clue words: 1.rooftop 2. orgy (and as much as I know the  many of you roll your eyes at my genealogy charts…you're gonna need it when we get there.
---
As a result of David's slope of sins, his firstborn will die.  David accepts the judgment of the Lord and takes responsibility for the result.  The heir to the throne is born: Solomon (his name comes from the Hebrew word shalom, peace, and means "Peaceable" or "Peaceful"), was a blessing from the Lord. It demonstrates that God's grace is greater than all our sins.  Solomon had another name, "Jedidiah" (I will always picture Owen Wilson from Night of the Museum).  In spite of David's sin, God's covenant remains. 
The chapter ends circling back to the first verse we read today, with David going out to war with his warriors like he was supposed to in the first place (this all could have been avoided).  He took a crown weighing about 75 pounds and returned home to Jerusalem.
---
1 Chronicles 20.  (very different read) Remember the purpose of the Chronicles was to encourage the Hebrews returning after the captivity to rebuild Jerusalem.  Ezra, the writer,  wanted to write about the victories of their ancestors…soooo no point in retelling the transgressions. 😂  Sooooo, the author leaves out the whole Bathsheba incident on purpose., but highlights these enormous battles fighting giants with 12 fingers and 12 toes they were so big!
YOU KNOW THE PSALMS ARE GOING TO BE AMAZING FOLLOWING THIS.  FEEL FREE TO READ AHEAD!
Click here for tomorrow's reading