Similar texts with very different details!
As we read on, Jesus will be confronted by the Pharisees, Sadducees, and Scribes.  Jesus held tightly to the original scriptures and did not conform to his environment.  (ouch, right).  You need to know who are the "confronters":
Pharisees-(means to be separated) They began after the Babylonian Captivity.  Started out great! They are going to be separated from the World!  As time went on, they became too separate and legalistic-conservatives to a fault
Sadducees- did not believe in the Oral Law, Miracles, the Resurrection of the dead, or any Supernatural event.  They were more of a social group.-liberals to a fault
Scribes- probably began during the time of Ezra.  The "OG" of Scribes. They would copy the Torah (The 1st 5 books)-so that people in captivity and those that returned to Jerusalem could study God's Law.

Through time they would make additional post-it notes and debate over them as a group.  Sometimes the post-it note superseded the words of God. (like reading Christian books, without reading the Bible)

Herodians- they were Jewish nationalists that sided with the Herod Family.  They wanted to exalt the Herods for building up the beautiful temple before them.
Jesus makes a new group and named them a greek term for being an actor-'hypokrites', – Hypocrites! 
---
Let's jump right in with me growing up with an Italian Catholic mother in NJ- We had LOTS of "Christian" traditions, yet no one in my family (I mean the aunts, uncles, cousins, grandparents…..NEVER once had a Bible)
3 Jesus replied, "And why do you break the command of God for the sake of your tradition?
Jesus is speaking to the Pharisees about ritual without reality. The Pharisees had asked why the disciples did not wash their hands according to the ritualistic tradition of the elders. This hand-washing was not what we think of today with soap and water. It was a ritual done as a show of "religion".  
Oh, you want to talk following the law Pharisees?  OK, let's pick a 10 commandment….#5 will do.
'Honor your father and mother' and 'Anyone who curses their father or mother is to be put to death.' 5 But you say that if anyone declares that what might have been used to help their father or mother is 'devoted to God,' 6 they are not to 'honor their father or mother' with it. Thus you nullify the word of God for the sake of your tradition.
The phrase 'devoted to God', means "Corban". Whatever money might have been used to provide for aging parents could be dedicated to the temple treasury instead (BUT you can keep it in your wallet and use it if you needed) . Saying, "It is Corban" would exempt a person from his responsibility to his parents. (Next time my kids ask for money I am going to say "Corban". Ha!!)
---
"Listen and understand. 11 What goes into someone's mouth does not defile them, but what comes out of their mouth, that is what defiles them."….
17 "Don't you see that whatever enters the mouth goes into the stomach and then out of the body? 18 But the things that come out of a person's mouth come from the heart, and these defile them. 19 For out of the heart come evil thoughts—murder, adultery, sexual immorality, theft, false testimony, slander. 20 These are what defile a person; but eating with unwashed hands does not defile them."
So what comes out of our mouth is more vile than what goes into the sewer pipes.  
Quite the parable to think over today.
---
The Faithful Canaanite woman- "Lord, Son of David, have mercy on me!"– Wait….what?  So you are telling me a Gentile woman not living near Jerusalem is willing to admit WHO Jesus is, but not the Jewish leaders.
26 He replied, "It is not right to take the children's bread and toss it to the dogs."
In other words- "It is not right to take what I promised the Jews through a Covenant and freely give it to Gentiles" (Gentiles were often referred to as dogs)
27 "Yes it is, Lord," she said. "Even the dogs eat the crumbs that fall from their master's table."
You go girl!!!
---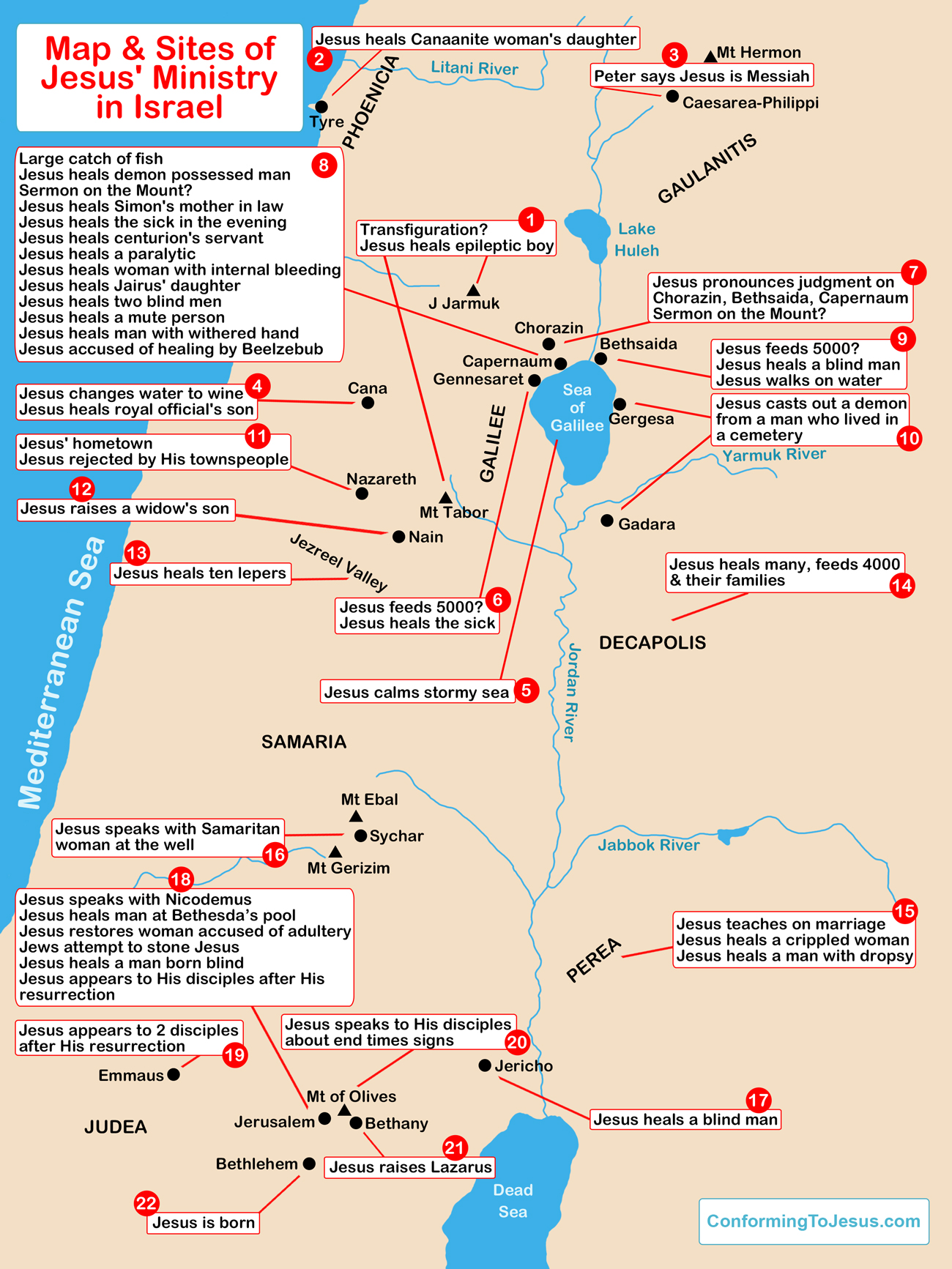 Great Map!  Click here to print.
---
Jesus feeds the 4000+ family (This is a separate event from the other feeding). Look at the map.
The meal difference: The first feeding miracle/the feeding miracle
1-day sermon verse 3 day sermon
different season (sitting on grass verse ground)
5 loaves/ 7 loaves a few fish
12 baskets left over/7 baskets left over
Two different locations: Galilee region/Decapolis region