It's a 20-minute read (long). So I vow to keep this post short.
Samaria and Jerusalem:
The capitals should be the Holiest city!  Are they?
What is Jacob's transgression?
    Is it not Samaria?
What is Judah's high place?
    Is it not Jerusalem?
There are 3 trials:
Ch 1 and 2-The Trials of the capitals: Samaria and Jerusalem. The Covenant is a "contract".  The people broke their contract.  So now God brings His case against them. God tells them the consequence for their sins: their land will be a heap of rubble!
Here is a picture of Samaria today-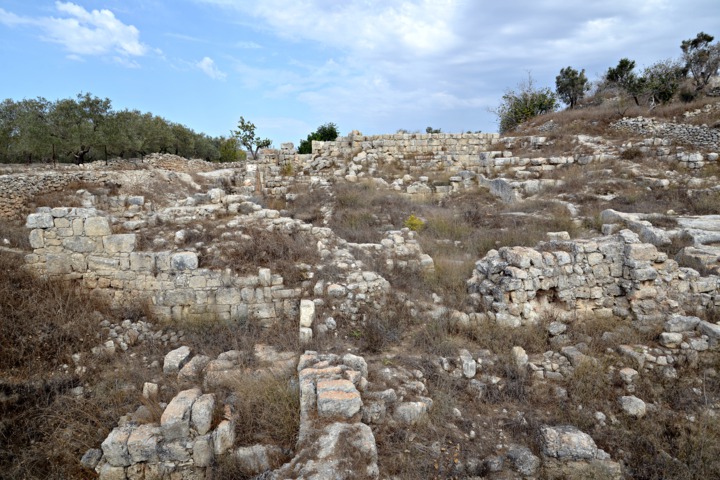 Micah is the first one to weep over the verdict.
v10-16 -Micah used puns and plays on words to talk about the judgment coming upon the cities of Judah.  Names of cities and people were often their destiny  (LIke our character is often ours)
---
Chapter 2- As I was reading Chapter 2 I thought about the horrible Kings that made their "own" plan instead of God's Plan.
v6-False prophets say what people "want" to hear…not "need" to hear.  Look at verse 11:
If a liar and deceiver comes and says,
    'I will prophesy for you plenty of wine and beer,'
    that would be just the prophet for this people!
(this is not a dig at drinking…this is sarcasm about "If a prophet  talked about beer and wine you would like him…they didn't like Micah and his message)
BUT God's "contract" is unconditional.  Regardless of this trial: v12
2 "I will surely gather all of you, Jacob;
    I will surely bring together the remnant of Israel.
I will bring them together like sheep in a pen,
    like a flock in its pasture;
    the place will throng with people.
13 The One who breaks open the way will go up before them;
    they will break through the gate and go out.
Their King will pass through before them,
    the Lord at their head."
I am a sheep!!  Jesus is the King!
---
Chapter 3 Trial #2- Trial of the Leaders.
Her leaders judge for a bribe,
    her priests teach for a price,
    and her prophets tell fortunes for money.
Yet they look for the Lord's support and say,
    "Is not the Lord among us?
WOW!
---
Chapter 4- (Hey I am doing good keeping it short!)  It's killing me though!
"In the last days":  We are split-screen…or watching 2 channels at once…we are looking at the 2nd Coming too….
In the last days
the mountain of the Lord's temple will be established
    as the highest of the mountains;
it will be exalted above the hills,
    and peoples will stream to it.
---
Chapter 5- Let's do this!
"But you, Bethlehem Ephrathah,
though you are small among the clans of Judah,
out of you will come for me
one who will be ruler over Israel,
whose origins are from of old,
from ancient times."
Let's flip to Matthew Chapter 2
2 After Jesus was born in Bethlehem in Judea, during the time of King Herod, Magi from the east came to Jerusalem 2 and asked, "Where is the one who has been born king of the Jews? We saw his star when it rose and have come to worship him."
3 When King Herod heard this he was disturbed, and all Jerusalem with him. 4 When he had called together all the people's chief priests and teachers of the law, he asked them where the Messiah was to be born. 5 "In Bethlehem in Judea," they replied, "for this is what the prophet has written:
6 "'But you, Bethlehem, in the land of Judah,
    are by no means least among the rulers of Judah;
for out of you will come a ruler
    who will shepherd my people Israel."
7 Then Herod called the Magi secretly and found out from them the exact time the star had appeared. 8 He sent them to Bethlehem and said, "Go and search carefully for the child. As soon as you find him, report to me, so that I too may go and worship him."
Well we know he was a big fat liar and was going to have the baby killed but that is beside the point.  Back to Micah…
---
Chapter 6- Trial #3- Trial of the People.  (Arg!  This is us)
The trial: oh my stars!  God states in concluding arguments recounting just a moment of His provision for the people.  And ends with…and what small task did I ask back? v8:
And what does the Lord require of you?
To act justly and to love mercy
    and to walk humbly with your God.
v9-16 is the verdict.
Therefore I will give you over to ruin
    and your people to derision;
    you will bear the scorn of the nations
---
BUT God is Love, and we have Hope!
7 But as for me, I watch in hope for the Lord,
    I wait for God my Savior;
    my God will hear me.
How does it end.??? With a Savior:
18 Who is a God like you,
    who pardons sin and forgives the transgression
    of the remnant of his inheritance?
You do not stay angry forever
    but delight to show mercy. ❤️
19 You will again have compassion on us;
    you will tread our sins underfoot
    and hurl all our iniquities into the depths of the sea.❤️
20 You will be faithful to Jacob,
    and show love to Abraham,
as you pledged on oath to our ancestors
    in days long ago.