The reading starts with:
In the seventh year of Jehu, Joash became king, and he reigned in Jerusalem for forty years. His mother's name was Zibiah; she was from Beersheba. 2 Joash did what was right in the eyes of the Lord all the years Jehoiada the priest instructed him. 3 The high places, however, were not removed; the people continued to offer sacrifices and burn incense there.
So we see JERUSALEM and DID RIGHT…therefore we KNOW this must be a king from Judah,  BUT he did not take down the "high places".  High places were man-made places to make sacrifices, which copied pagan ways, to make sacrifices.  Judah had no excuse to do this since the Temple was in their territory.
Joash was the youngest king to mount Judah's throne. He began reigning at age seven and ruled for 40 years (835-796 B.C.). His father was Ahaziah, the most recent male ruler of Judah, and his grandmother was Athaliah. Joash was mentored by a priest named Jehoiada.  His claim to fame was bringing the Temple back to the Holy Sanctuary God had intended it to be.  JUST in case you read 2 Kings BUT skimmed 2 Chronicles (who would do that…ummmm me!) I will pull in a line or two that you may have missed.
So why did the temple need repair (besides years of neglect)?
2 Chron 24:7- Now the sons of that wicked woman Athaliah had broken into the temple of God and had used even its sacred objects for the Baals.
Click here for a bigger copy or a printable one of this: you can find her just above Joash on the right side.
Joash started off so strong but he ended on a sour note.  He made 2 big mistakes.  Remember the other day the map of Aram.  Aram wanted to be able to use the coast for trading.  King Hazael of Aram had defeated Israel during the reigns of Jehu and Jehoahaz (chapter 13). He then pressed south along the Mediterranean coast toward Judah. He captured Gath and then sent soldiers against Jerusalem who killed many Judean leaders.
 Joash: Rather than turning to God for deliverance, Joash bought Hazael off with gold from the renovated temple. (12:17-18)
He went the way of the world and eventually worshiped like they did. I am not kidding, he abandoned the Temple project as well as the Temple itself! (2 Chon 24-17-19 if you want to go back to read it)
---
2 Kings Chapter 13
Don't let the names overwhelm you.  Look at the subtitle.  King of Judah or King of Israel.  That will help you.  We are getting close to the end of Israel so you will see them getting weaker and weaker.
7 Nothing had been left of the army of Jehoahaz except fifty horsemen, ten chariots and ten thousand foot soldiers, for the king of Aram had destroyed the rest and made them like the dust at threshing time.
Follow your King chart, next is Jehoash (Israel side)
Elisha is dying (did anyone stop and think…did he see it coming?)  Jehaosh weeps over this.  Why?   Because Elisha is the only reason they have not fallen into enemy hands.
14 Now Elisha had been suffering from the illness from which he died. Jehoash king of Israel went down to see him and wept over him. "My father! My father!" he cried. "The chariots and horsemen of Israel!"
Look at some of your visuals.  Now that both Israel and Judah are falling apart, God still loves them so much,  that He is going to start sending prophets with strong messages to try to get them to turn from their evil ways. (peek at the schedule coming up)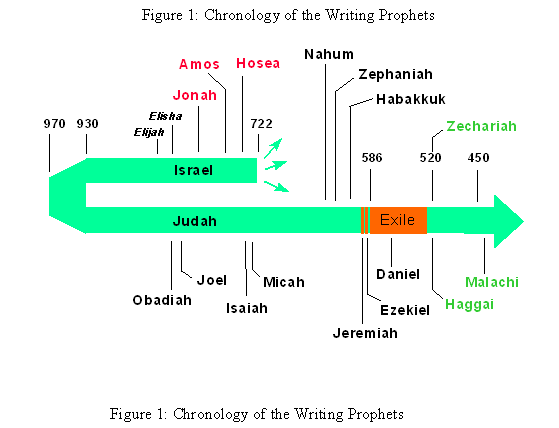 Question:  Explain this diagram to me (even though it has not happened yet.)  Why are there little green arrows at 722?  What is the orange?  Why 2 little lines and then one fat orange line?