Chapter 22
So last night I posted a pre-read to give you time to chew on Genesis 22:1-19.  Click here if you missed it. It begins with "Some time later God tested Abraham"  What is He testing him for?  He was told to leave his county, his people, his father's household, save Lot from a large army, tithe, circumcise himself, wait 30 years for his wife to get pregnant…what else can Abraham be tested on?
God's command to sacrifice Isaac was to test Abraham's faith in His Promise and Covenant.
God's command to sacrifice Isaac was to provide an example of absolute obedience.

God's command to sacrifice Isaac was to reveal God as Jehovah-Jireh. (The Lord Provides)
God's command to sacrifice Isaac was to foreshadow God's sacrifice of His own Son.
Hebrews  11: 17-19 says "By faith Abraham, when God tested him, offered Isaac as a sacrifice. He who had embraced the promises was about to sacrifice his one and only son, 18 even though God had said to him, "It is through Isaac that your offspring will be reckoned."19 Abraham reasoned that God could even raise the dead, and so in a manner of speaking he did receive Isaac back from death.
He passed the test of believing God's full measure in the promise that He conquers death.  "Now I know that you fear God"  Abraham believed God's Promise!!  He was told he would be a father of nations.   Do you put all your faith in the Creator of the universe that when he says "I PROMISE, you will be raised from the dead.  I will PROVIDE a SUBSTITUTE!  God will provide the Lamb (I grew up going to catholic mass: "the lamb that takes away our sins"….I had no idea what that meant).  Do you hope that's going to happen or do you BELIEVE that is going to happen? 
---
 Let's look at geography…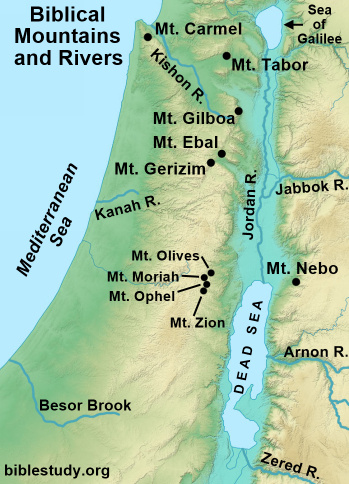 Then Solomon began to build the temple of the Lord in Jerusalem on Mount Moriah, where the Lord had appeared to his father David. – 2 Chron,3:1 
So we are on the land that will be Jerusalem.  Where Jesus, God's son, his only son, whom he loved,  will come, carry wood on his back….
Abraham had faith from the moment he was told to "Go" or "Leave".  For 3 days on his heart, his son was dead.
God restated the Covenant of His Promise.
17 I will surely bless you and make your descendants as numerous as the stars in the sky and as the sand on the seashore. Your descendants will take possession of the cities of their enemies, 18 and through your offspring  all nations on earth will be blessed, because you have obeyed me."
Abraham believed that even if he followed through, God was still God, and would have fulfilled His promise.
---
Nahor's sons:  Printable is in the menu.  If you can't find it let me know.  BTW, how come no one names their son Uz or Buz anymore??  The point of looking closely at this part of the Scripture is to follow: 23 Bethuel became the father of Rebekah (and Laban).
---
Chapter 23  The death of Sarah.
Why is Abraham wanting to buy this burial site so badly that when the price of the land was offered to him at double the price he doesn't even negotiate, he just buys it?  Abraham is a foreigner of this land, but he knows that God's promise will be fulfilled and his descendants WILL be given this land so he wants to secure the cave of Machpelah as a burial site so that when they are given the land,  Sarah's burial will be there.   Later Abraham, Isaac, Rebekah, Jacob, and Leah would be buried here too.
---
(For Bible Geeks like me: Hebron will be mentioned again: (feel free to skip this)
---
Chapter 24 Rebekah
The servant Eliezar (we know his name from Chapter 15) is told: "Umm, my son is getting old, he is about 40, go get him a wife!   But there are 2 conditions:
She must not be a Caananite!   (party girls!). It is important to Abraham that Isaac's wife be equally yoked believing in the One true God, not a pagan.
She must be willing to come back to the land promised to us.(He does not want Isaac to live in an area that will pollute his faith)
So Eliezar prays "can you make this easy on me and give me an unmistakable sign so that I know she is the one".  (If only this happened on the show The Bachelor!) Just kidding. Eliezar knows the importance of the task so goes to the Lord in prayer.
Before he is done praying….She's The ONE!  Not only is she the one but she is kind, a servant (offering to feed 10 camels!),  a virgin, not a Canaanite,  and beautiful!  Jackpot!  Look at your family tree above…Bethuel was her father…check #1 off your list.  Bethuel must have passed away because Laban commits her to marriage (Especially when he noticed the expensive jewelry they gave her $$$).
So now what about #2 on the checklist.  Could be a problem because Assyrian Law may not protect a woman from WHO they get to marry BUT they do get a say in WHERE they live.
57 Then they said, "Let's call the young woman and ask her about it." 58 So they called Rebekah and asked her, "Will you go with this man?"

"I will go," she said.
I picture this in slow motion…both Laban and Eliezar sweating…waiting on an answer…and finally, they hear "IIIII….wiiiiilllll……goooooo"