IT IS HARD TO NOT GET BEHIND!  Life is BUSY.  You may have dropped off a LONG time ago and said "I am going to catch up" and now you are too far….Maybe you recently fell off and have Psalms, Proverbs, Ecclesiastes yet to read.  HERE IS THE DEAL…and listen to me….We are at a JUMP IN SPOT LIKE YOU WOULD NOT BELIEVE!
Click here to print this timeline.
Many of us can retell the Bible up to David (if you can't grab a children's Bible and flip through it….I have done it).  David was given a Covenant that in short said "The Messiah will come from your descendants…he will be the King of Kings"  David gave the crown (Covenant) to his son Solomon.  Well, Solomon now will give the crown (Covenant) to his son Rehoboam.  (His name starts with an R for "Reigning" King…I made that up but put it in your pocket)
There were "King Rules" about not storing up horses, not marrying many wives, reading the scriptures, and applying them daily, and Solomon failed at all of them!  Solomon was the wisest man on the planet and he still struggled with the application and listening to God (It's like a firefighter not putting out his fire after camping and he burns down a forest)
---
TOMORROW we will read 1 Kings 12-14.  It's so good!!  Find your Bible, get a bookmark, and put it there.  Why?  Because we are going to read what is called the DIVIDED KINGDOM (man, why all the caps Trish…way too excited).  Literally, the tribes are going to SPLIT (see I told you) and make 2 nations.  This is NOT good people.  The Covenant does not split, just the people.
Here are some visuals so that when you read tomorrow.  Look below at the yellow boxes.  Rehoboam and Jeroboam.  As you read about these 2 guys if you are like me and get a little overwhelmed with names,  just "nickname them" (I have a nickname in my head for everyone)
"R"-Reigning King- Solomon's son-Covenant
"J"-Jerk (sorry, that is what my nickname is)  He is a JERK for leading 10 tribes into a division that will NOT carry the Covenant.
Look below.  This is a NORTH/SOUTH split.  To keep this straight in your head you are going to think of all the songs or phrases you have heard about the "Lion of Judah" and know that the one that will keep the Covenant is JUDAH.
Here is the Timeline and how the Prophets are going to mix into History.  So Cool, right!!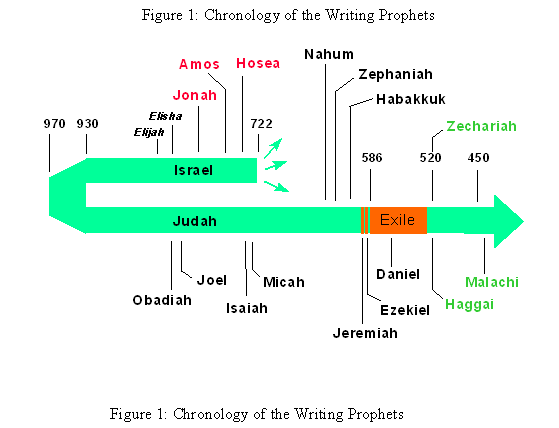 Looking forward to it!